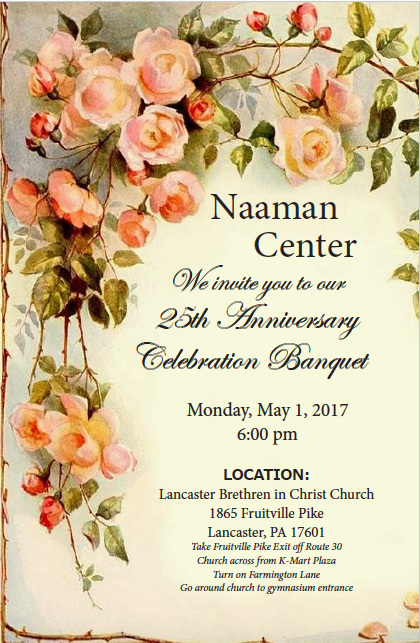 Naaman Center celebrated their 25th Anniversary with a banquet on Monday, May 1, 2017 at Lancaster Brethren in Christ Church. What a great evening!  We enjoyed delicious food, inspirational testimonies, historical memories, and special guest singer/speaker, Karen Knight, best known for her role as Mrs. Noah, in Sight & Sound's Millennium Theater's renowned production NOAH, THE MUSICAL in Strasburg, PA. Karen spoke, touched our hearts with beautiful music, and topped that off with a delightful and inspiring one-person drama entitled "100 % Chance of Rain". With 150 in attendance, we raised over $12,000.00, which will be used to support the ongoing work at Naaman Center.  With grateful hearts, we say thank you!  Hope to see you next year.  Look for more information early 2018.
We are pleased to announce that Dr. Walt Mueller will be our special guest for our Fall Banquet on October 10, 2017. He is an internationally recognized expert on youth culture. He will be speaking on how youth culture is impacting our nation's drug use epidemic. Anyone who has children or cares about our future generations will want to hear this! There is no charge to attend. A love offering will be received.
Click on the image to download the full invitation >>>
Naaman Center's 25th Annual Golf Tournament will be held on July 14, 2017 at Par Line Golf Course. We are planning for a wonderful day of golf, delicious food, games, prizes, and a great time of fun and fellowship.  Registration forms will be available soon.
Hope to see you in July, 2017!
Click on the image to download the full brochure >>>